Helsinki is a diverse travel destination that offers a lot to see and do. In addition to traditional sights and cultural destinations, the city also offers vast opportunities for outdoor activities. There are numerous great cycling routes in Helsinki and its surroundings, suitable for beginners as well as experienced cyclists.
In Helsinki, there is something for everyone: whether you love culture or sports, you certainly won't run out of things to do. It's also possible to explore the city by bike and combine exercise with culture. In this article, we give tips on what to do in Helsinki. Get the most out of Helsinki and get to know the city and its nearby locations better with our tips.
We will go into more detail on the following topics:
What to do in Helsinki? Explore the city by bicycle

Best cycling routes in Helsinki

Guided bike tours in Helsinki

Best outdoor destinations in Helsinki

Renting a bike in Helsinki
What to do in Helsinki? Explore the city by bicycle
Cycling is one of the best ways to explore Helsinki and its numerous sights. Helsinki has an extensive network of cycling paths and especially shorter distances are best to be done by bike. From the city's website you can find a comprehensive guide to cycling paths, routes, and bike parking spots. You can also conveniently plan all your cycling routes using a route guide. In Helsinki, you don't need your own bike, as renting a bike is easy. In the summer, city bikes are available for short transfers and throughout the year you can rent a high-quality mountain bike, electric bike, or fatbike, which makes even longer distances easier in easier or more challenging terrains.
You can also easily explore the city's most famous sights with a bike. You can move around the city center at your own pace by bike and there are plenty of bike racks available.
At least visit the Senate Square to seeHelsinki Cathedral, Kauppatori and Helsinki's Old Market Hall. Also Helsinki Central Library Oodi, Helsinki Olympic Stadium and the rock-cut Temppeliaukio Church are in themselves worth seeing. For those hungry for culture, there is an extensive list of current exhibitions.
THINGS TO DO IN HELSINKI – BEST CYCLING ROUTES IN HELSINKI
Helsinki offers a wide variety of cycling routes for cyclists of all ages and levels. In our capital, nature is surprisingly close in many places. We therefore recommend experiencing the best parts of Helsinki and the beautiful landscapes from the saddle of a bike.
One of the best things to do in Helsinki is mountain biking. Helsinki's Central Park offers great, varying routes for cyclists of all levels. The Central Park covers a nearly ten-kilometer-long strip in a north-south direction in Helsinki. In the summer, the routes in the Central Park can be ridden with a mountain bike, electric bike, fatbike, or even a regular bike. The park indeed offers well-maintained gravel roads in the summer, which you can pedal indefinitely in a criss-cross manner. For example , at the Paloheinä outdoor area in North Helsinki, you can choose from a wide range of routes of different difficulty levels.
In spring 2023, the first guided mountain bike route in Central Park will be opened.. If you have avoided mountain biking in Central Park because you are afraid of getting lost, this is no longer a danger with the new MTB route, but you can ride along stunning forest paths into the middle of the city. The route, which is approximately 16 kilometers long, runs from Laakso through Central Park to Haltiala and Pitkäkoski. The route has been designed in collaboration with mountain bikers. We at We at Roll Outdoors have been responsible for implementing and finishing the project.
Of course, there are many other cycling routes in Helsinki. For example, if you want to enjoy seaside views from a bicycle, there is a comprehensive network of cycling routes along the coasts of Helsinki. The downtown coastal route or the Eastern coastal route are worth trying.
If you want to combine culture with cycling, try the about 14-kilometer route Kuusisaari, Lehtisaari, Kaskisaari, and Lauttasaari. The first stop is in Kuusisaari, where you can visit the Didrichsen Art Museum.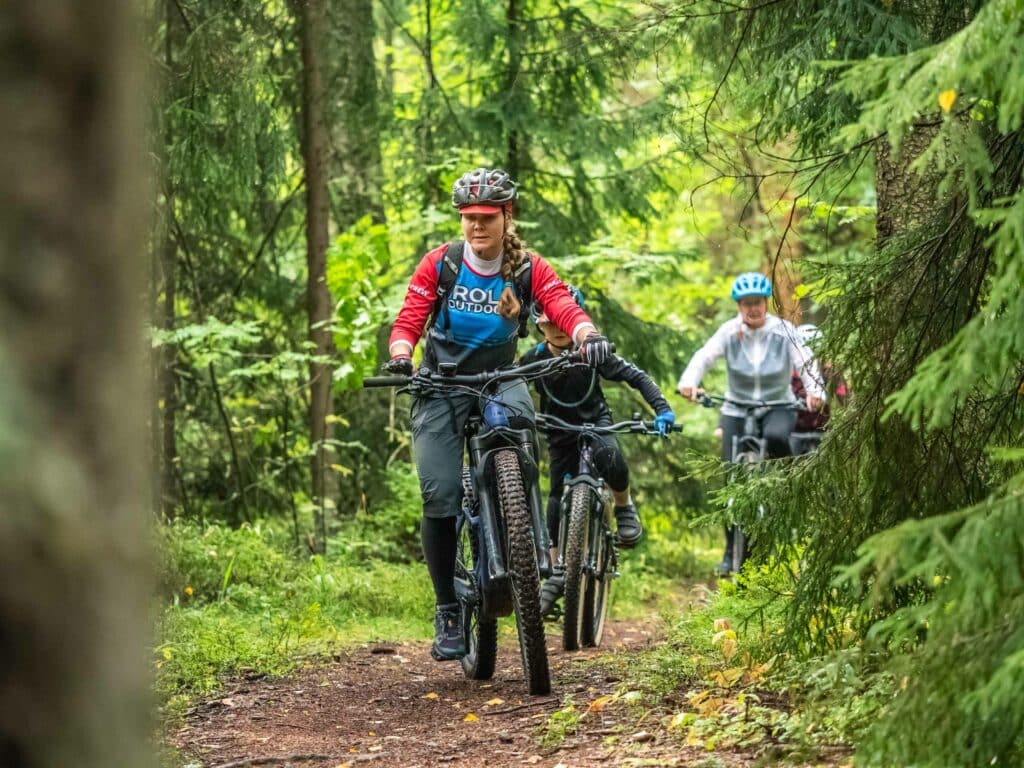 Things to do in Helsinki – guided bike tours
In Helsinki, guided bike tours are also organized. Roll Outdoors organizes guided bike tours in Helsinki Central Park for mountain biking. for mountain biking. With a professional guide, it is safe and enjoyable to cycle. Route choices are always made to suit the whole group. The guide will advise you on how to use your bike and give you riding tips, if possible on an individual basis. You can choose from pre-packages or order a tailor-made tour.
For small group tours, you can choose between electric mountain bikes and regular mountain bikes. For larger groups, the tours are generally carried out on electric bikes. Electric assisted bikes ensure that people of all levels and abilities can take part in the bike ride. Even the slowest can easily keep up with the whole group.
We offer, for example, very popular and liked well-being at work days with mountain biking. Our well-being at work days are low-threshold opportunities to get to know a new, great hobby. he main purpose of the day is to have fun and be together. Routes are planned suitable for your work group. Everyone can participate, and no previous mountain biking experience is needed.
Things to do in Helsinki – the best outdoor destinations in Helsinki
The sea fortress of Suomenlinna is a UNESCO World Heritage Site. The fortress began to be built in the mid-18th century when Finland was part of Sweden. In Suomenlinna, you can explore the fortress itself, museums, and enjoy the beautiful nature and local restaurants. You can get to Suomenlinna by ferry departing from the Market Square. You can bring a bike for the trip, as the island is easy to experience in its entirety from a bike. Transporting a bike by ferry is chargeable and biking in the fortress is only allowed on roads.
Seurasaari, located very close to the downtown of Helsinki, is an open-air park available to everyone, which also operates as an outdoor museum during the summer season. It presents the living, working, and lifestyles of past centuries in Finland. You can easily get to Seurasaari by bike. However, cycling is not allowed on the island, but you can safely park your bike in front of the island.
Nuuksio National Park, located about 30 kilometers from the center of Helsinki, is a paradise for outdoor enthusiasts. If you have a little more time available, a visit there is definitely worth it. About 30 kilometers of cycling routes await you there. If you want a proper bike ride, you can cycle to the national park. Part of the journey can also be covered by local train, which can take a bike. From the nearest train station, Espoo center, it's about 11 kilometers to the destination. In Nuuksio National Park, cycling is only allowed on designated routes. If you want to enjoy the Nuuksio area for a longer time, you should consider staying overnight.
Another outdoor destination a little further from downtown Helsinki is Sipoonkorpi National Park. . It's located about 20 kilometers east of Helsinki. From the Tikkurila train station, it's about 11 kilometers to get there. The area has several beautiful cycling routes, and cycling is allowed throughout the entire national park as long as you stay on clearly distinguishable paths and take other travelers into account. Sipoonkorpi also has stunning hiking trails, so if you wish, you can cycle there and enjoy the scenery on foot as well.
Renting a bike in Helsinki
If you're tempted by the idea of a cycling holiday in Helsinki and you're coming from afar, you should definitely consider renting a bike on-site. This way, you avoid transportation and get a high-quality and well-maintained vehicle at your disposal.
From us at Roll Outdoors, you can easily and affordably rent a bike in Helsinki directly from our online store for your desired time. Bike rental is also possible by phone at +358 44 9017278, by e-mail helsinki@rolloutdoors.com or our bike rental service by coming directly to our bike rental shop. (Address: Nuijamiestentie 10, 00320 Helsinki)
Whether you're just starting out in mountain biking, a skilled expert or something in between, we've got a bike for you. If you need help choosing a bike or anything else, we're happy to help!