Groomed fatbike trails at Ounasvaara hill
Roll Outdoors builds and takes care of the winter mountain bike trail network at Ounasvaara hill, which you can find just behind the river Kemijoki. Snow biking trail network consists of approximately 25 kilometres of nice flowy singletracks at the hill's top area.
In winter snow makes it possible to build some extra turns, berms, bumps, and other creative features. Roots and rock are covered by snow and trails are easy to ride, but same time super fun for even most experienced riders.
The fatbike trail is marked with fatbiker symbols, so you won't get lost.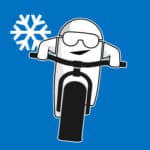 Riding on the trail is free of charge. You need to be careful when on your own responsibility.
Trail map
Below you can find a map of rideable trails at 20th January 2023. Click the image to open the full size map.
Respect the trail!
Use only fatbike, minimum 4″ tyres. Please don't sink. When the trail is soft, use very low pressures, even 0,3bar or even lower for lightweight riders. Good advise is to press the tyre with your hand and your body weight. If you can hit the rim, it's too soft. Half an inch between your hand and the rim is good.
If you keep sinking despite low pressures, please turn back and try again another day.
After snowfall, let the freshly groomed track stay over night. Tomorrow it's going to be much better! 
Season
Snow biking season starts usually in December and lasts until sun melts it down in April/May.
Pay attention to weather especially in the coldest days. Wear enough clothing and note that for instace water freezes in a normal bottle fast. Only thing that freezes faster is your Iphones battery. For clothing tips, check the video below:
Guided tours and bike rentals
In case you are visiting to Rovaniemi and interested to have a ride, we are here to help. You can hire both the guide and the high quality mountain bike with huge wheels!
Check Roll Outdoors guided tours: Guided tours to Ounasvaara
Hire a fatbike: Bike rentals in Rovaniemi