City bikes in Helsinki are a familiar sight from spring to autumn. Urban cycling has become increasingly popular in the last few years, and no wonder. Cycling on a city bike is a great way to move from one place to another, save money and get useful exercise at the same time.
In this article, we discuss e.g. the following things regarding city bikes:
Why is a city bike a good choice?
What kinds of bikes are available in the Helsinki region?
Safety when biking
Mountain biking in the capital area
The best sights by city bike in Helsinki
Where can you rent a mountain bike?

City biking in Helsinki is a great choice for getting around
Whether you're on your way to work or to other things, you can often get there faster by bike than by car (own or public transport) in city traffic. And since you don't have to pay for fuel or parking when cycling, you also save a lot of money. A bicycle is an ecological choice for movement because it does not cause emissions. In addition, cycling is a great workout. Even leisurely cycling burns calories and improves health.
Urban cycling is also a great way to spend your free time, see sights and get fresh air while avoiding traffic jams. Cycling is also flexible – you can go door to door and park right in front of your destination instead of looking for a parking space. And if you're running late, you can always zip through traffic quickly.
In addition to traditional city bikes, you can also rent mountain bikes in the capital region. This makes you able to travel not only on the streets, but also on forest paths. You can easily get around the Helsinki with an electric mountain bike.
What kind of bikes are available in Helsinki?
The largest provider of city bikes in the Helsinki area is HSL – Helsinki Region Transport – which operates in the Helsinki, Espoo and Vantaa regions. It is worth noting that Helsinki and Espoo have a common bike system, but Vantaa has its own. There are almost 4,600 bikes and 460 stations in use in Helsinki and Espoo. In Vantaa, on the other hand, there are about 1,000 bikes and 100 stations.
HSL's yellow, traditional city bikes are a familiar sight in the capital's summer. HSL's city bikes are the perfect choice when you want to move easily and quickly along the asphalted streets of the city or along the dirt roads of the surrounding area. Check out the city bikes on HSL's website.
If you also want to ride forest trails, have a longer bike tour in mind, or would like to ride an electric bike, a mountain bike suitable for urban conditions from Roll Outdoors is a great choice. A mountain bike is suitable for both the city and the paths of the central park, and they can be rented with both muscle and electric power.
Find out about mountain bike rental in Helsinki.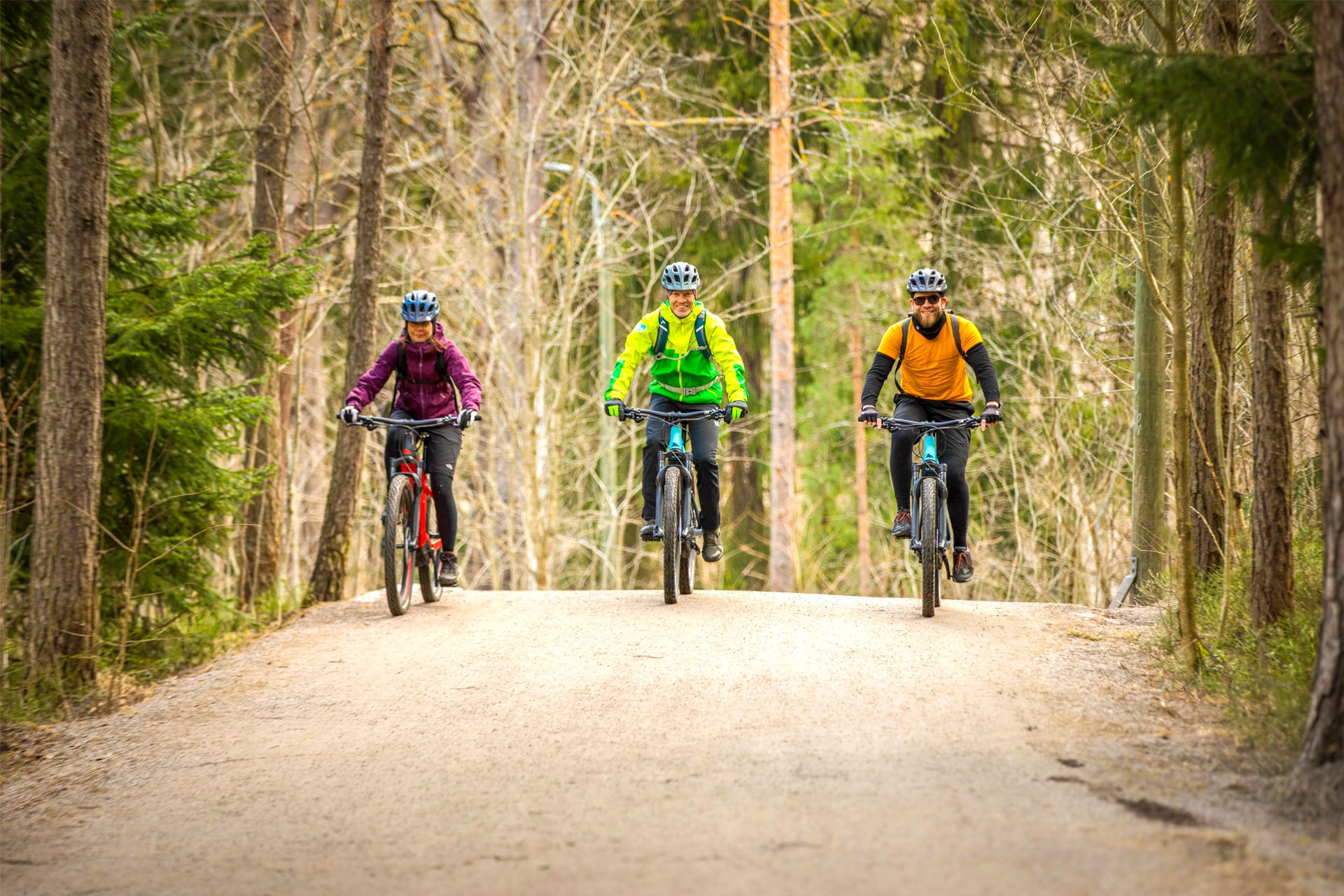 Cycle safely in Helsinki
When cycling in the city, it is important to observe special caution and traffic rules. By following these three points, cycling in Helsinki and other cities is safe:
Always wear a helmet when cycling! No matter how short your trip or how close to home, a helmet will protect your head in the event of an accident.
Always be aware of your surroundings. This means being aware of both cars and pedestrians. Follow all traffic rules and use hand signals when turning. Obeying traffic rules not only keeps you safe, but also sets a good example for other cyclists.
Be predictable. Drive in a straight line as much as possible and avoid meandering into traffic. This makes it easier for drivers to see you and avoid hitting you.
Open to new experiences – on a mountain bike in the capital
If you want to get a little more out of city cycling in Helsinki, you can try mountain biking on the streets and trails of the capital region.
A mountain bike is a more professional ride than a regular city bike, for example there are more gears and it is easier to pedal. And even if you're not heading off-road to cycle, you can easily cycle long distances on a mountain bike. With mountain bikes you will get to see and experience Helsinki more widely.
Mountain biking in Helsinki is a great way to exercise while admiring the scenery. In Helsinki, there are many different routes and paths of different levels, from which you can choose the one that suits your fitness level and skill level. You can also explore Helsinki at your own pace.
You can easily meet new people through mountain biking. Most mountain bikers are friendly and happy to chat, even if you don't know them. In other words, through mountain biking you can make new friends and get to know Helsinki together.
Electric bikes are popular among cyclists these days. You can also get mountain bikes with or without electricity. An electric mountain bike brings a touch of luxury to mountain biking and, above all, makes it easier for the cyclist, for example, in difficult areas of the terrain, such as cycling on steep hills.
With an electric mountain bike, even as a beginner you can venture into somewhat more challenging terrains and you can cycle a longer route than usual.
Mountain bike + Helsinki = The perfect city for mountain bikers
Helsinki is a great place for mountain biking! Helsinki has numerous trails and routes for mountain biking and the scenery is beautiful.
Mountain biking is a great way to exercise and enjoy the outdoors. The best thing about mountain biking is that it is suitable as a hobby for absolutely everyone, regardless of age, fitness and skill level. In Helsinki, there are various cycling routes and paths for everyone. You can ride asphalt bike paths, wide dirt roads, easy or challenging forest paths, a smoother route or a demanding hilly route.
If you're looking for challenging terrain for mountain biking, head to Helsinki Central Park. There are a lot of hills and uneven terrain, which will make you sweat and require skill from the cyclist. If you want something a little more relaxed and less challenging mountain biking route, try the paths of Vantaanjokilaakso. When there is no snow, there are also many easy-to-ride dirt roads for cyclists in Helsinki Central Park.
Find out more about the cycle routes in Helsinki Central Park.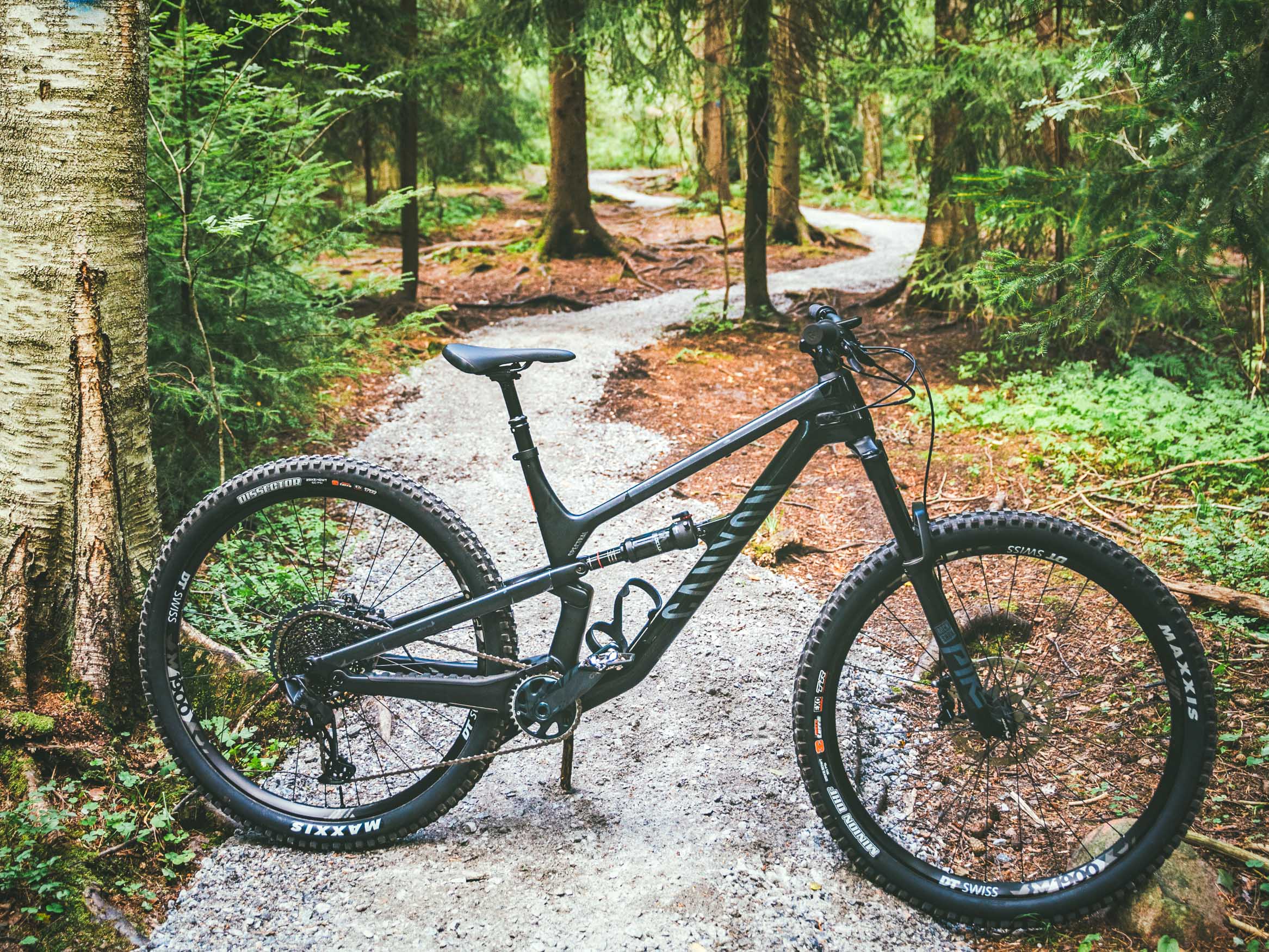 The best sights by city biking in Helsinki
With a city bike – traditional or mountain bike – it is easy to reach many wonderful sights in Helsinki. Here are the best tips from Roll Outdoors:
The paths of Keskuspuisto
Helsinki Central Park is an almost ten-kilometer-long green area with a very varied nature and cycling opportunities: mature spruce forests, groves, fields and meadows. Check out our ready-made central park cycling route suggestions.
Suomenlinna by ferry
You can also take a bike to Suomenlinna, a world heritage site, and it's easy to experience the unique island in its entirety from the back of a bike. There is a charge for transporting a bicycle on the ferry, and you can only ride a bicycle on the driveways in the fortress.
Driving around Helsinki along the beaches
Helsinki is a seaside city and you can easily get around the core center by bike. At the same time, you get to soak in the beautiful scenery of Kaivopuisto, you can see the newly completed Jätkäsaari and the leaves passing through the inner city. See the cycling route around Helsinki.
Eastern coastal route
A 23-kilometer long cycling route runs along the seashore east of Helsinki's core. There are many things to see along the route, from the urban Kalasatama to the Uutela outdoor recreation area in wonderful and varied maritime landscapes. See Helsinki's eastern beach route.
Espoo's versatile cycling routes
Espoo also has enough cycling routes for all cyclists. In Espoo, you can cycle in seaside landscapes, in urban environments, in the countryside as well as in the national park. Or you can combine these along the same bike tour. Check out Espoo's cycling route suggestions.
Rent a mountain bike or electric bike in Helsinki from Roll Outdoors
Get more out of cycling in Helsinki, rent a mountain bike or electric bike from us at Roll Outdoors. In our bike selection, you can find high-quality mountain bikes with or without electricity for both children and adults.
Our bike rental office in Helsinki is located on the edge of Helsinki's central park, in Hotel Haaga Central Park, at Nuijamiestentie 10, 00320 Helsinki. Rent a bike through our website or come to our bike rental office on site.
Whether you are a mountain biking veteran, a beginner or something in between, mountain biking in Helsinki is always a wonderful experience and worth experiencing. And you really don't have to head off-road to rent a mountain bike, a high-quality mountain bike is a good choice for regular city cycling in Helsinki.
Also keep in mind that if you dream of buying your own bike, it's worth coming to test different bikes first. By testing the bikes by yourself and with the help of our expertise, you can find the right and high-quality bike for yourself.