Eco friendly winter adventure in lapland
Winter is here, and it's time to explore Lapland like never before! If you're looking for an exciting and sustainable way to experience the beauty of the Arctic, fat biking is a must-try activity. Whether you opt for a traditional fat bike or an electric fat bike, you're sure to have an unforgettable experience.
Fat bikes, including electric fat bikes, are specially designed for winter conditions, with wide tires that provide stability and grip on snow and ice. Unlike snowmobiles or ATVs, which run on gas and emit harmful pollutants, fat bikes are powered by human effort and electric power, making them a much more sustainable option for exploring the winter wilderness.
So, if you're looking for "things to do in Lapland" this winter, why not try winter biking? Not only will you have a blast, but you'll also be doing your part to help protect the environment. And if you're looking for "things to do in Rovaniemi", you'll be glad to know that the city is a great destination for fat biking, with plenty of scenic trails and stunning views.
In conclusion, winter biking is sustainable and eco-friendly ways to experience the magic of the Arctic winter. Whether you're a seasoned cyclist or a beginner, it's a unique and exciting activity that's worth trying. So ditch the snowmobile (or do both) and join us for a winter biking adventure in Lapland! You won't regret it!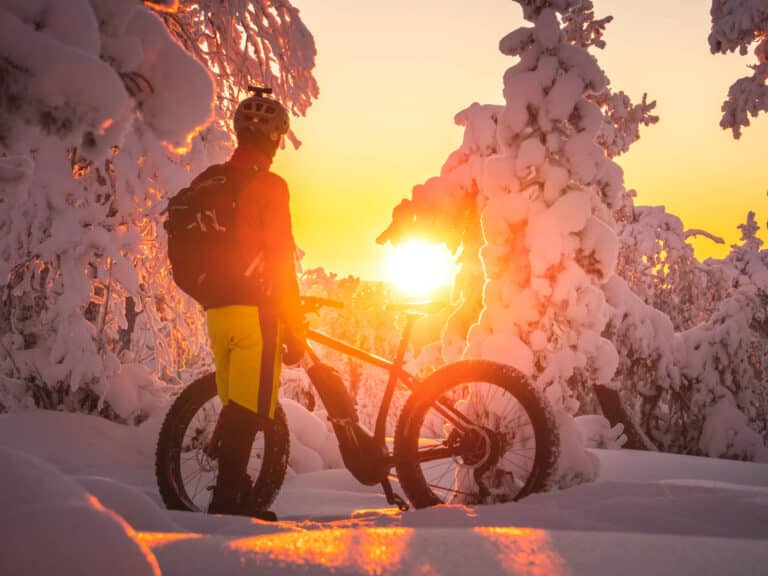 Ps. we have also this other location… just dropping the video below.
#Sustainability #FatBiking #ElectricFatBike #WinterMountainBiking #ArcticWinter #SnowmobileAlternatives #ThingsToDoInLapland #ThingsToDoInRovaniemi