Bike recommendation
mountain bike
Route description
Easier suggestion for 1-2 hour ride in Helsinki Central Park. Route follows common park routes and is suitable for not so experienced riders.
Map and GPS
Check the route in Trailmap.fi ( might need some uploading time).
Follow the route with your cell phone by allowing GPS in internet browser.
GPS-trace can be loaded in  Trailmap.fi by clicking loading icon and  "Tallenna GPX"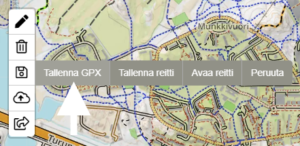 More info
Level
easy 2/4